Marimer Baby Nasal Hygiene Spray
Good nasal hygiene for your baby will help protect their nasal mucosa from external attacks and help prevent ENT infections. Using MARIMER BABY NASAL HYGIENE will help the nose to breathe up to the age of 6 months.

WHY USE MARIMER BABY NASAL HYGIENE?
- For day-to-day nasal fossae hygiene, to prevent ENT infection
- To moisturise dry nasal mucosa.

HOW TO USE THIS PRODUCT?
1 spray per nostril, preferably before every meal, 1 to 4 times a day as necessary.
Please read the instructions carefully before use. Ask your pharmacist for advice.

This medical product uses a microdiffusion process which will gently discharge nasal secretions. Its wide safety nozzle makes it safe to use on infants as soon as they are born. Find out more...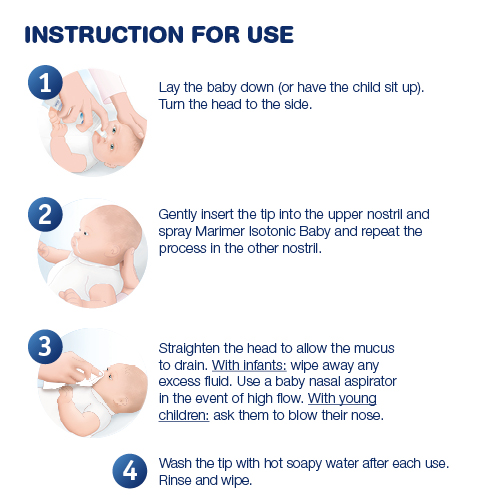 WHAT DOES IT CONTAIN?
100% sterile isotonic diluted seawater (equal to 9 g/Ll of salts).
WHO IS IT FOR? 
From birth 


Do not use to treat premature babies.